Espace réservé
Boite à outils
Prilling technology - microspheres and microcapsules development
Production unit of beads and capsules - Prilling technology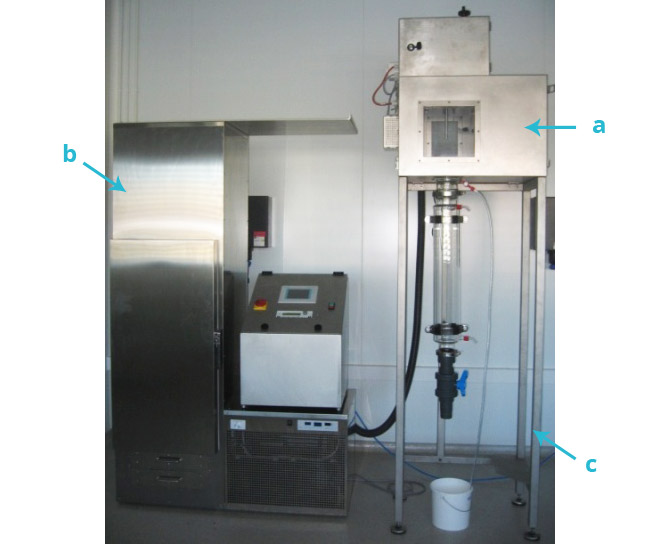 Drip casting unit with a heating chamber (a). THe droplets formed by the drip casting unit can be solidified by the cooling unit (b) or can be plunged in a gelling bath (c).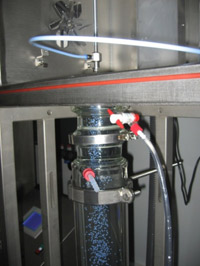 Prilling is a technical process of generating uniform spherical particles and capsules from solutions, molten solids, emulsions and dispersions.
Prilling essentially consists of two operations: firstly a liquid is pushed by the pressure through a nozzle (applying a vibration at a defined frequency),producing liquid drops with a close size distribution. Secondly, the drops are solidifying them individually, either by coolling them as they fall through a rising ambiant air stream, or by plunging them in a gelling bath.
The prilling process has to make uniformly sized drops (narrow size distribution).
Technical specifications:
The prilling equipment is a Spherisator M (Brace GmbH).

The pilot is equiped with a single nozzle (for microbes generation) or a concentric nozzle (for microcapsules formulation).

The heating chamber is composed to the nozzle and the two feeders. The temperature of the heating chamber can be up to 150°C.

Three single-nozzle sizes are availables at the platform (200µm, 400µm and 800 µm). This range can be enriched according to the needs.

For the concentric nozzle, there are three internal nozzles sizes (200µm, 400µm and 700 µm) and three concentric outlet nozzle sizes (800µm, 1000µm and 1500µm). This range can be also enriched.
The process capability is from 500 ml to 5 liters.
The gelling bath has a maximal capacity of 10 liters. It is equipped to a double envelope with a thermal bath.
The cooling tower in stainless steel can cool down to -30 °C.
The unit production provide a comprehensive development for:
the spherical particles (hydrogel, organogel or microarrays) with a narrow size distribution;

the development of excipients or adjuvants, in R&D projects in the pharmaceutical, cosmetic, food and feed domains.
Setup of the gelling bath equipped to the double envelope.

Microspheres development with a sodium alginate formulation encapsulating an active.